Established in 1994, the Perry Township Education Foundation (PTEF) is a nonprofit organization that has, since its inception, funded over $1.2 million in creative and innovative learning grants. However, their previous logo and branding did not reflect the creativity and innovation that they have supported for over 20 years.
Our branding and logo development process started with a kick-off meeting where we discussed in depth why their existing logo was no longer a good representation of the organization. We also spent a lot of time sharing ideas about what the new brand should and should not include. The words creativity and innovation were a steady presence in the conversation.
For the new logo, they knew that they wanted to completely move away from a green color palette and instead incorporate the colors of the two high schools (blue and red). However, it was important that one could not be more prominent than the other. Additionally, they wanted to replace the PTEF acronym with the full name, Perry Township Education Foundation, to make sure that anyone who saw the logo knew what it was representing.
For the corresponding mark or imagery, they unanimously agreed that the old school bell was antiquated and uninspiring. The brainstorm session included discussing what shapes or objects came to mind when thinking about the foundation – including the possibility of incorporating the two high school mascots, aa blue falcon and a red cardinal. (More on that later.) In the end, everyone agreed that the most important characteristic was for the mark to be interesting and unique.
A sampling of the some of the designs explored (but not chosen) are shown below. The light bulb / hot air balloon combo was a top contender, but ultimately it was decided that while all of these designs could be successful, they could also be used for any education foundation.


So, remember the birds?
Trying to include a falcon and a cardinal in a single logo would be a challenge to say the least. But it's our job to take the vision of our client and apply our design education and years of experience to create a solution that both we and the client can be proud of. Clearly, we didn't include two literal birds in the design. However, we took that concept and incorporated two feather shapes into the design, each one representing the two high school mascots.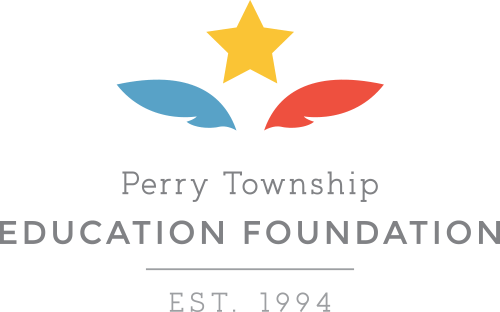 It was this design that resonated the strongest with the board because it uniquely represents Perry Township in a creative and innovative way.
Visit the case study page to learn more about the entire PTEF project.
Share this article